I knew all of the theories on innovation
For this interview, we spoke to another one of GETKICKBOX's Co-Founders,
Reto Wenger

.
Having coached more than 300 Kickboxers so far, he certainly has a lot to share. Here are some insights from his own journey in innovation, the challenges and rewards for Kickboxers, and some of his favorite success stories from
GETKICKBOX
so far.
Hi Reto, thanks for joining us today. To start, can you tell us what innovation means to you in a few sentences?
For me, innovation means creating new things. But this can happen in many different ways – it can mean adapting a product you already have, using technology for something it's never been used for before, or introducing an existing product to a new consumer group. Whenever there are one or more entirely new components in a business model, it's innovation.
What was your first experience of entre- or intrapreneurship?
After finishing my bachelor's degree, I joined a company with more than 7000 employees, where I took an idea from the beginning right through to a global roll-out. That was my first experience of driving innovation within the given framework of an organization. I had lots of great colleagues to support me, but I also had to go through all management meetings and processes, some of which were non-existent before. I had studied Business Innovation, so I knew all of the theories on innovation, but I learned the most from actually doing it. This motivated me to pursue a career in innovation and even start my own company, which was a different experience all together.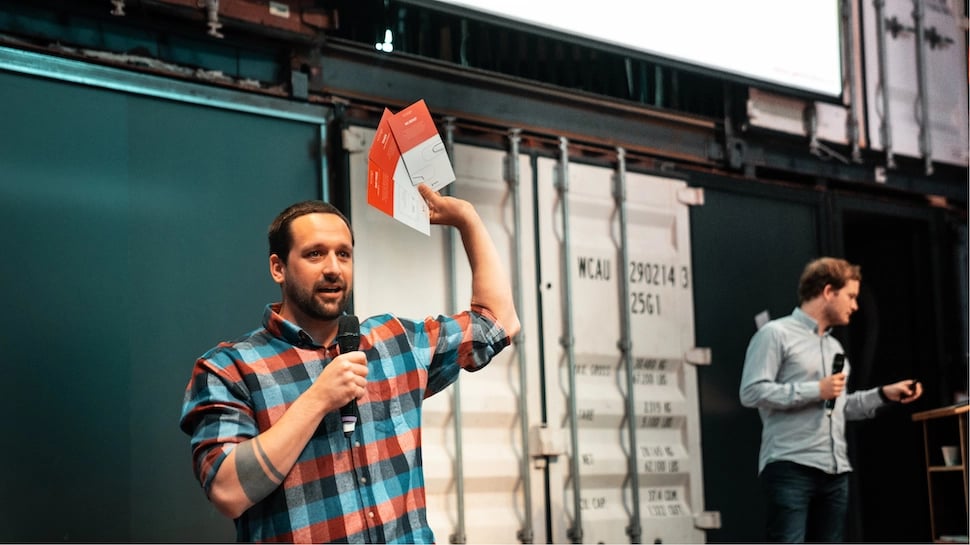 Having experienced both sides, what would you say are the main differences between entrepreneurship and intrapreneurship?
As I mentioned, when it comes to intrapreneurship, you're working within a given framework, so you have to stick to certain rules. Often those rules are not written down but are more related to the political aspects of the business. You need to convince the right people to give you that extra hour or additional budget for your project. You're forced to learn to navigate the landscape as you go.
An entrepreneur, on the other hand, gets to set their own boundaries and decide their path. The price you pay for this can be a very personal one. Since you often lack resources – both funds and staff – you can end up working every hour of the day to realize your goals and pay your rent. So, having so much freedom puts you under a different kind of pressure. This is probably the most significant upside to intrapreneurship; you can pursue your idea without quite so much pressure.
And since co-founding GETKICKBOX, you find yourself on this journey again. How has your role at GETKICKBOX developed over the years?
In the beginning, I used the title "Head of Operations." But in a start-up, this actually means doing everything you haven't yet hired somebody to do. Now, as the team is growing, our roles have become much clearer. There are three main areas I work on at present. Firstly, the methodology. The KICKBOOK is a very visible element of my work, and I've just written a new book, which is currently in the design phase. I also work on developing and presenting our partner networks for the marketplace – a platform where Kickboxers can easily book service providers for their project – a designer or prototype specialist, for example. This part also includes the certification of GETKICKBOX coaches. The third area is product discovery. You could call this our own innovation department. For instance, we recently carried out a pilot project with Siemens Energy. We invited students from local universities in the US, Canada, Mexico, and Germany to present their innovative ideas. We used the same KICKBOX principle, just in a new use case. This area is particularly exciting because it's where we get to prove our own value proposition.
All our roles have changed and developed over the years and will continue to do so, especially as we now find ourselves in the spin-out phase.
---
In the second part of our conversation with Reto we talk about the long journey GETKICKBOX has already taken, the changes that have to be made so far and the challenges that have frequently been encountered in recent years. Stay tuned!
GETKICKBOX has certainly come a long way already! But surely, you've also been forced to make changes and iterate over the years too?
Of course! We very much see GETKICKBOX as a KICKBOX project, just like the others. We have been through the whole process ourselves. We pitched our ideas to all of the boards. Some of those pitches failed, and we had to go back to the drawing board and start again. For example, the marketplace I mentioned earlier is quite different now than it was at the beginning. Back then, we simply added every single provider that we knew in each field because we thought the more choice, the better. But in fact, it was completely overwhelming for the Kickboxers to choose. Now we work with simple personas such as Paul, the Prototype Specialist.
As you can see, there have always been things that we have tried and didn't work, even today. We continue to test a lot of things, and luckily, we have some customers who want to be at the cutting edge of innovation and are happy to experiment with us. We can add a new feature or aspect, observe them using it for 4-5 months. These observations and their feedback help us decide whether to keep it and how to implement it. That's the good thing about having innovation managers and innovation teams as your customers; they're open to new things themselves. 
Having coached over 300 Kickboxers so far, what are the most common challenges they face?
The challenges tend to change and shift throughout the various phases, and they usually depend on where the Kickboxer comes from. In the RedBox phase, most Kickboxers find it challenging to get out there and interact with their customers. If they are in a customer-facing role like sales, it's easier. But if they're used to being in the back office, this part is very hard. Then again, if you're working with students, they tend to focus on quantitative data but aren't able to interpret the results because they've never actually spoken to a potential customer. Overall, I encourage Kickboxers to be selective. You have to interact with customers to build the right product, but you don't have to ask the whole world. If you choose the right five people, sit down with them (set up a Zoom call) and really talk to them, you will gain much greater insights.
In the BlueBox phase, it can be difficult for people to step out into the spotlight. After spending so much time working on something alone, it can be challenging to put yourself out there and think strategically as you do. If a Kickboxer reaches the GoldBox, things begin to get very real. You either get your spin-off or have created your dream role and now have to change teams. It's a big step, so, understandably, many people have trouble making the decision. As a coach, I try to prepare them for the decision as best as I can. After all, the level of commitment increases significantly as you move through the stages.
But the KICKBOX process is an extremely rewarding one. What do most Kickboxers take away from the GETKICKBOX process?
I think the greatest gain for most is the mindset they develop. Basically, by taking on the Kickbox journey, you're venturing out into the unknown and leaving your comfort zone. This makes you adaptable and teaches you to learn fast. It also shows you how to work with limited resources and how this can boost creativity. Many Kickboxers take this mindset back to their everyday role, knowing that you don't need a huge budget to try an idea in a measurable way.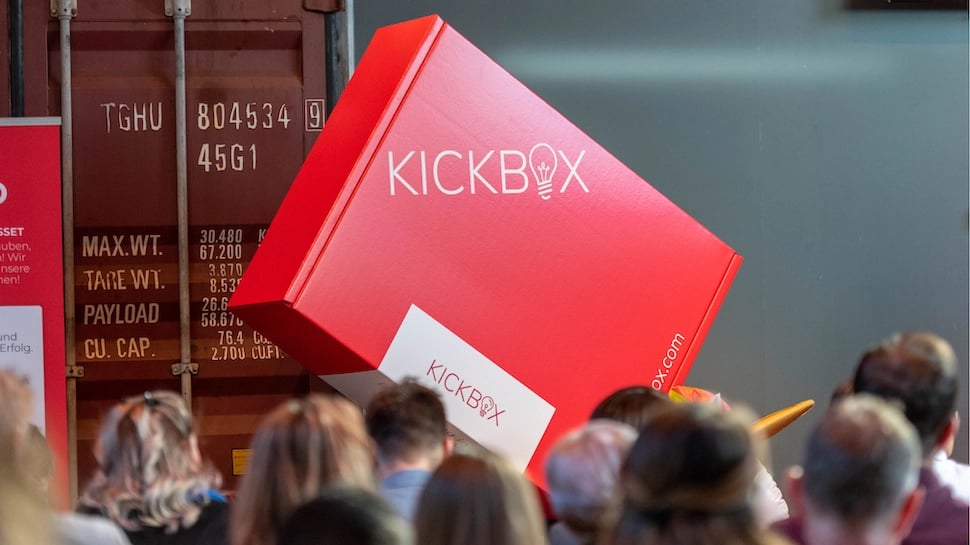 Can you tell us about one or two of your favorite GETKICKBOX success cases so far?
One that comes to mind straight away was one of our first projects. It's a great illustration of the journey a Kickboxer can take. For Thingdust.com, the Kickboxer, Stefan, started with a problem. He lived in a multi-story building with his washing machine in the basement and wanted to build a device to tell him when the cycle was finished. So, we gave him a KICKBOX. And a few weeks later, he had the device with temperature, humidity, movement sensors, and it worked excellently. But then we asked him: Will people buy it? After asking many people, he realized that even if they had the same problem, they weren't prepared to pay for a solution to it. They could just use the timer on their phones, after all. But he was so motivated to make it a success that he looked for a new use case. He has now turned it into an office tracking solution that helps facility managers to run, monitor, and improve their office spaces. We even have them here in the office where I am right now. This was such a great pivot that I will always remember this product.
Another project that motivates me a lot is the help2type project. The founder, Marcel, is such an inspiring personality. Every time I speak to him, I know he will have new information about the project because he continuously drives it forward. He doesn't sit there and wait for someone to help him. He just does it. This go-getter mentality is essential for a Kickboxer.
Finally, it's worth mentioning that lots of successful KICKBOX projects aren't sexy at all. They're the ones where someone sees a problem and manages to solve it quickly and effectively. But we don't talk about them as much because they wouldn't shine for the media. For example, a member of the support team was looking for software to wrap up cases more efficiently. She found and implemented a solution within a month. These "small," quick wins might not sound as exciting, but they are just as much a success for the program as the big shiny cases.
How has the COVID-19 crisis affected your work GETKICKBOX, and what have you learned from this unprecedented time?
Of course, it has affected all areas of the business somehow, but since we're a very young team, we already did a lot of things digitally. And we had also established remote work in our team before the crisis hit, so we already had most of the tools in place. But we did hire a lot of people at the start who we had never met in person, which was certainly new. It was a very different experience for the entire team, but luckily it worked out very well.
However, we mustn't forget the positive side effects. Suddenly, it was easier to onboard customers on the other side of the planet without a lot of traveling. Nevertheless, it is nice to meet a new customer face to face at the beginning and get to know them not just in the meeting room but at lunch and dinner. These are the things that I miss right now. However, overall, it definitely gave us a boost in terms of efficiency and productivity. So, let's hope we can carry that forward.