The IMPROVE Program
Never stop upgrading your organization: Become leaner and more customer-centric with our innovation software.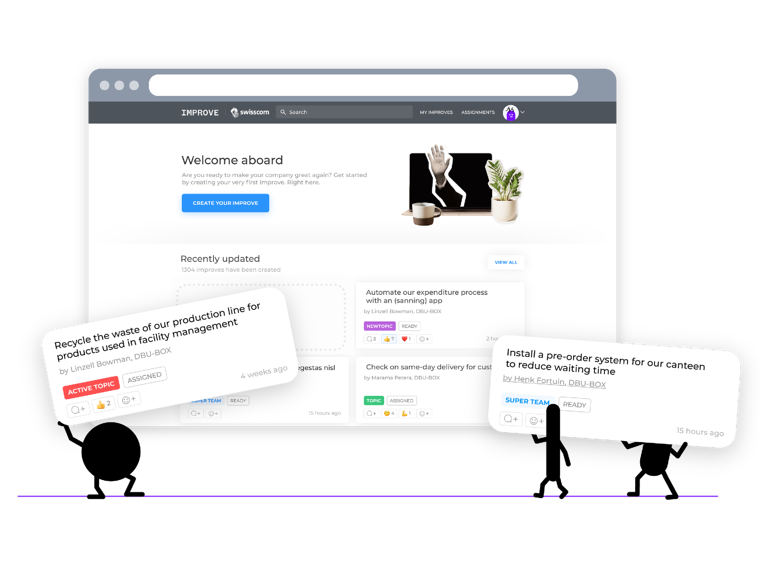 Companies struggle because of...
...inefficient resource allocations
...cumbersome processes
...a lack of customer centricity
...missing feedback from staff
Why Continuous Improvement?
Gather and execute continuous improvement ideas from your employees to make your organization leaner, more efficient and more customer-centric.
Being lean frees you from constantly talking about it
The Improve tool is ready-to-use software that puts the right processes, roles and tools in place to handle improvement ideas fast and efficiently.
The platform can keep track of 1000+ improvement ideas, allowing your team to identify the best of them.
Software alone cannot create lean management. Only you can.
The Improve software is great, but it is merely a tool. Your employees are the only ones who can make Lean Management a real thing in your organization. Use the training by rready to position the Improve program company-wide on all management levels.
The Improve program empowers your workforce to challenge existing structures and introduce a culture that intrinsically involves all employees.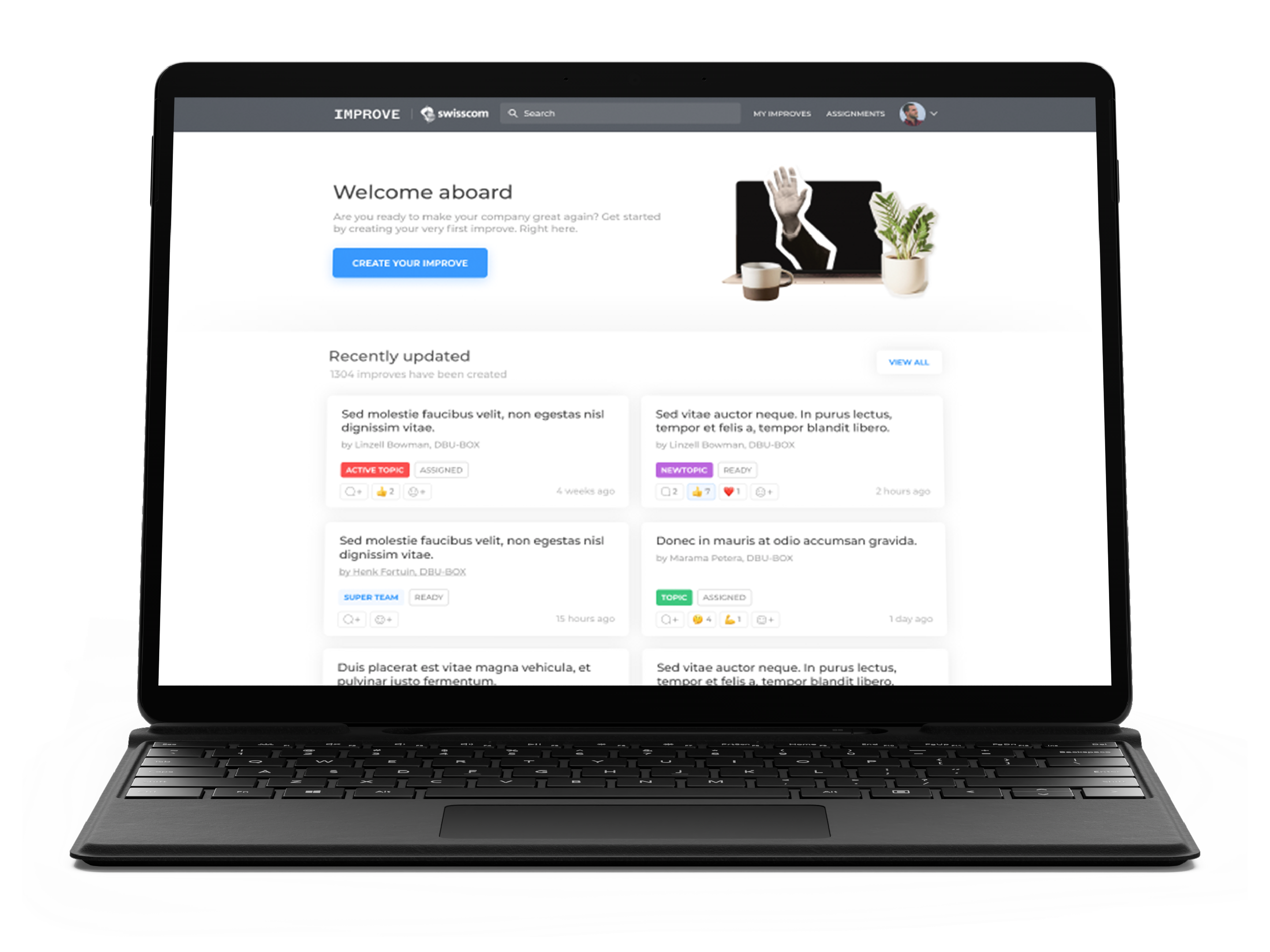 The Improve platform
Make your improvement ideas manageable, measurable and visible.
Straightforward submission process

Automatic routing of "improves" to experts

Analytics dashboard to show your impact

Organizational and virtual team and topic structure

Company administration with customization
"We had a great experience deploying both programs. With Kickbox employees create new things, with Improve we keep improving the things we already do."
Michael Hunkeler, Head of Intrapreneurship
Swisscom
5000
Continuous Improvement Ideas
The Secret Sauce
Based on our experience, we support the launch of your lean organization. This includes ready-to-use method frameworks and training material.
Ready-to-use method framework to start with

Clear role definitions and systems

Training materials for each role

Method-kit to launch and train your employees in a gamified way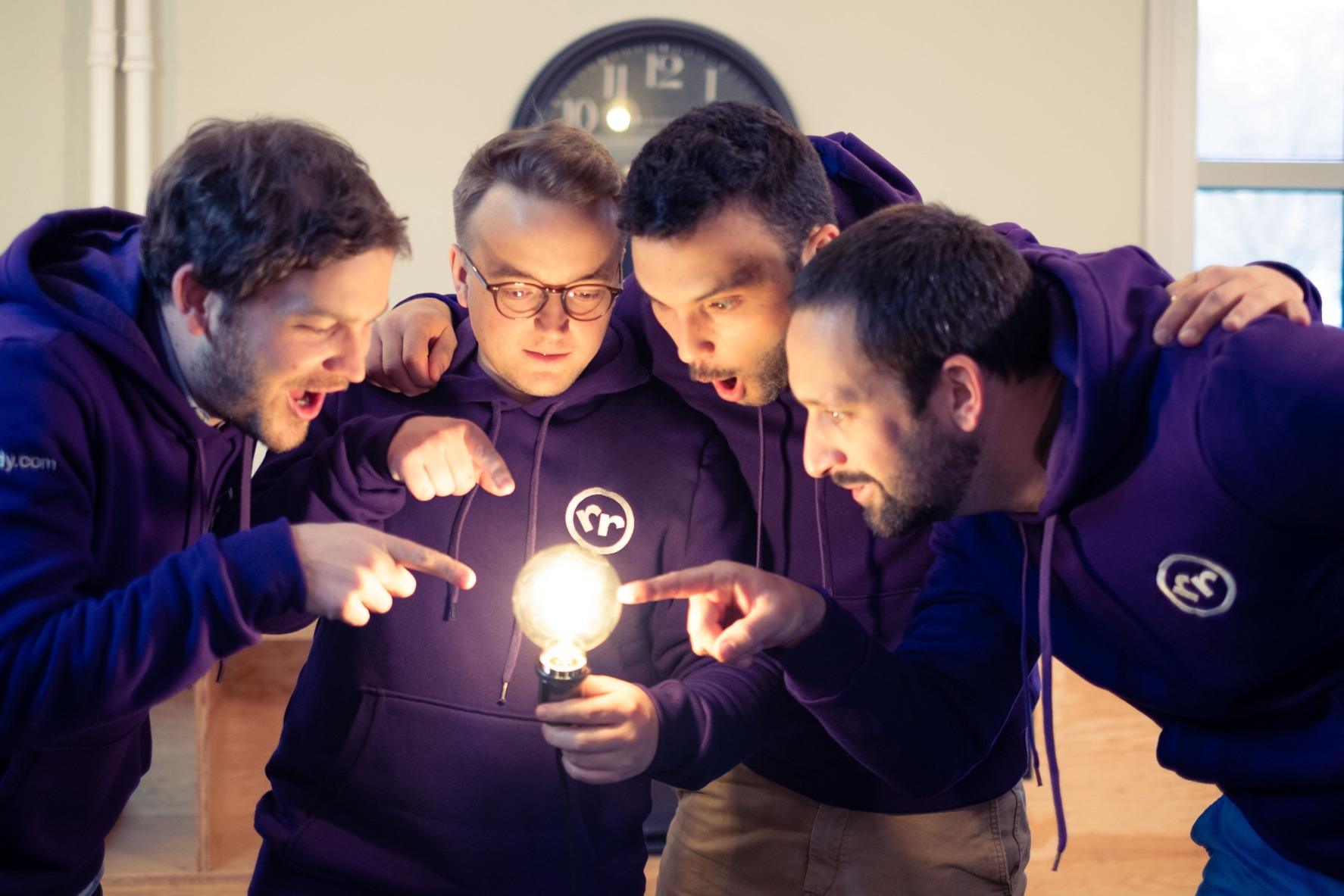 Why is Lean Management so popular?
Where does Lean Management come from?
Why is Improve called Improve?