Why management support is key for Intrapreneurship and how to get it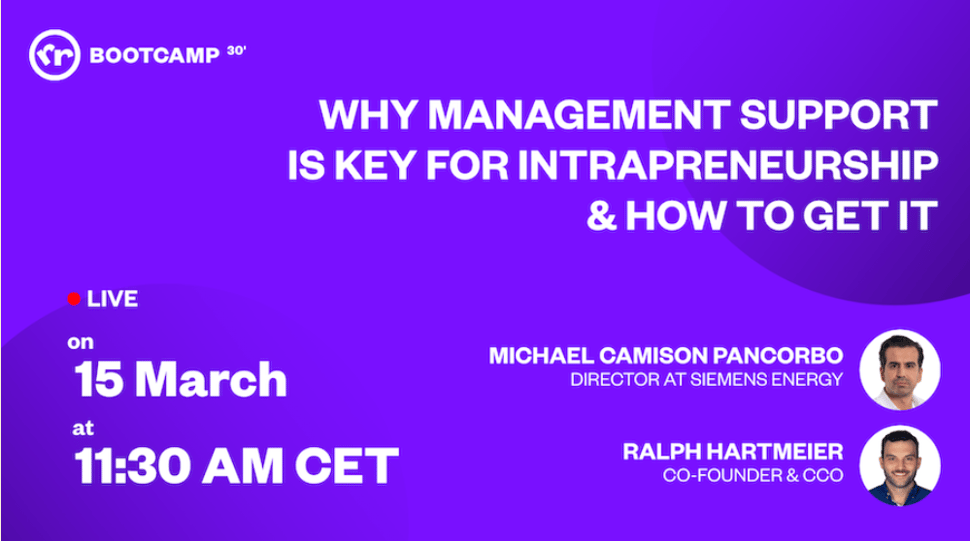 What we'll talk about🎙
You have made an extensive research around the intrapreneurship program that would best fit your organization's need. Well done! But how do you actually get management support to kick it off? Where do you start from and what are the most important components to get there? Michael Camison Pancorbo together with Ralph Hartmeier will shed light on these questions in this FireChat session.
Speakers:
Michael Camison Pancorbo, Director of Siemens Energy, was the project leader to implement and scale the Siemens Energy KICKBOX. What started in the US grew bigger to support intrapreneurs in Europe, Latin America, and Asia. Before starting the KICKBOX program, Michael worked in M&A.
Ralph Hartmeier, Chief Commercial Officer and Co-Founder at rready, is leading the Growth Team being responsible for Marketing, Sales and Customer Success. Besides his day job, Ralph is teaching at the University of Applied Sciences of the Grisons.
📆 Tuesday, 15 March 2022
⌚11:30-12:00 CET
What you will learn💡
What message do you need to get across?​

Which stakeholders would you involve?

What is the role of the team in the process?





​