How KICKBOX helped make Swiss startup bottleplus a reality
In a matter of hours, the duo from bottleplus and their solution to revolutionize on-the-go beverages through a reusable carbonation bottle, has made it onto everyone's radar. From small beginnings to raising CHF 800,000 on the Swiss TV Show "Die Höhle der Löwen" and eventually withdrawing to realise an even more fruitful offer: this is how the KICKBOX program was part of it all right from the beginning...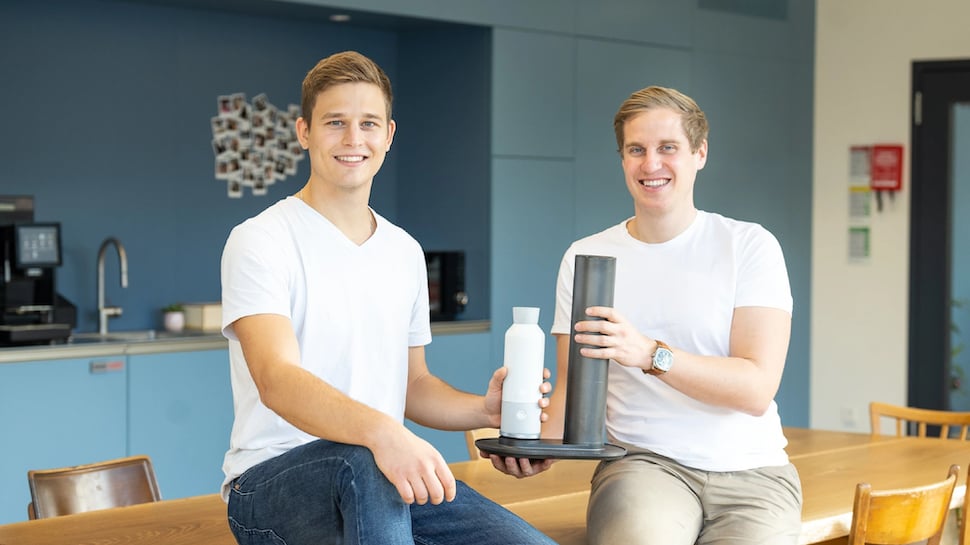 The bottleplus Duo, Christian Käser and Linus Lingg
It goes without saying that carbonated water is a favorite across Europe – with sparkling water consumption being the highest right across the globe. So too, is the sentiment of Christian Käser – a beloved sparkling-water drinker himself, and now the CEO of bottleplus, a reusable and on-the-go carbonation bottle.
The Idea
The 'eureka moment' occurred one day, whilst on the way home from work, Christian shares. "I was on the train when I opened my reusable water bottle filled with sparkling water from a fountain at the office. Shortly after the typical 'zisch' sound, the idea of bringing the concept of home carbonation devices (SodaStream, etc.) to a portable device or bottle popped into my mind. From that moment on, I just couldn't let it go. And so, the idea for bottleplus was born."
The KICKBOX program as an enabler
Despite not having a lot of confidence in his idea, Christian began working on his project via the KICKBOX program, which he had encountered during his time at ETH Zurich, during our CEO Dave Hengartner's Lean Startup Academy. "With the commitment to participate in the program, you are 'forced' to start working on your idea rather than only think about it," he says, which highlights the 'No blah, just do' approach and encourages innovators to dive into the deep end and start executing their ideas.
The KICKBOX program is a bottom-up approach that aims to involve every employee in the innovation process. It consists of four key components including an online platform to make innovation scalable, a physical toolkit to make the process gamified and tangible, access to an expert network and professional services, and strategic support. KICKBOX has three different phases in which the innovators are encouraged to validate (RedBox Phase), explore (BlueBox Phase), and implement (GoldBox Phase) their idea. At the end of each phase, the Kickboxers face a jury selected by the company, in front of which they pitch their ideas in order to secure funding.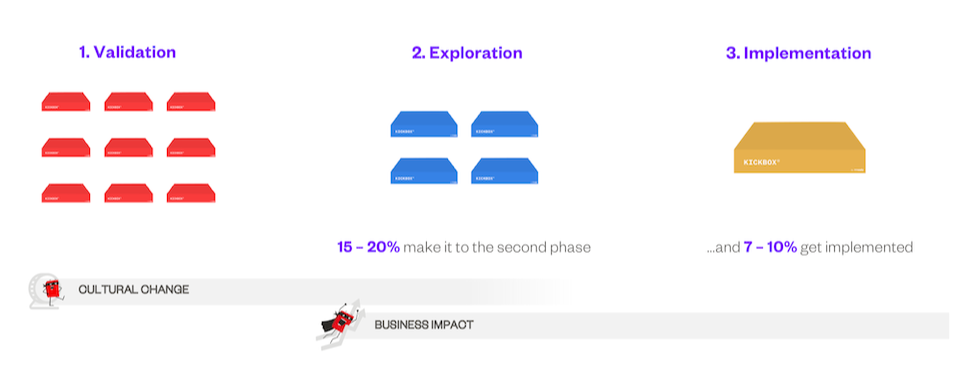 The three phases of the KICKBOX program.
With the help of a traditional smoke test, the team of bottleplus was able to collect customer and market feedback, to ensure that there was not too much work being put into the idea without clear structure and direction. "We set up a dummy website with a few pictures and explanations of our product and allowed signing up for a newsletter. We then started a social media ad campaign to gain a certain reach and it was exciting to see how many people subscribed and left some positive comments.," Christian says. "It was the most shaping moment for us because we knew at that time that there might be a market for our product, and it motivated us to work on the idea further." When working on a project, one also relies on external input, feedback, and help when starting. "The helpfulness that we experienced from the Kickboxer community was incredible and contributed to a great experience. At the same time, it was another important learning that we made: Never be afraid to ask for help", he continues.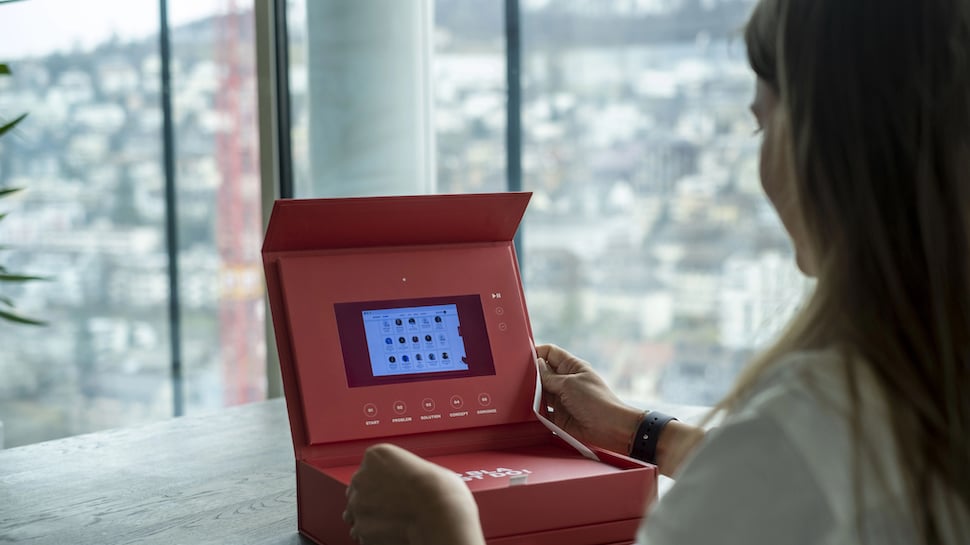 KICKBOX empowers anyone to become an innovator through a simple, gamified, and hands-on solution.
While not following the traditional corporate innovation route in which context KICKBOX is usually employed, Christian sees the program as having much potential in a university setting. "Touchpoints to intrapreneurship/entrepreneurship are not given in some tertiary education contexts, even though it interests and fascinates a lot of people. The KICKBOX program offers such touchpoints in a very lean way, meaning without having to provide many internal resources. This creates a win-win situation for everyone: For students, as these hands-on experiences might actively positively shape their future career path, and for universities, as portraying them as an active startup environment with potential spin-offs further contributing to a good reputation."
Offering a sustainable alternative
A few months down the line in the Summer of 2020, bottleplus started to take shape. The product: a reusable, hard-shell water bottle, with a detachable adapter at the base of the bottle that includes a refillable CO2 gas tank. At the press of a button on the adapter, you can produce sparkling water anywhere, up to 15x before having to refill the CO2 gas tank at home, using the refilling station. The design is sleek and modern and makes for easy handling, without too many additional components. Compared to a normal water bottle, bottleplus is also only 200g heavier.
Due to the enormous consumption of PET bottles across the globe, the need to make a sustainable alternative is evident. "Both Linus (bottleplus CTO) and I, love drinking sparkling water, but we want to consume it in an environmentally conscious way", Christian says. In this way, users do not have to choose between bland, but environmentally friendly tap water, or purchasing a PET bottle. Instead, they have an on-the-go, sustainable alternative.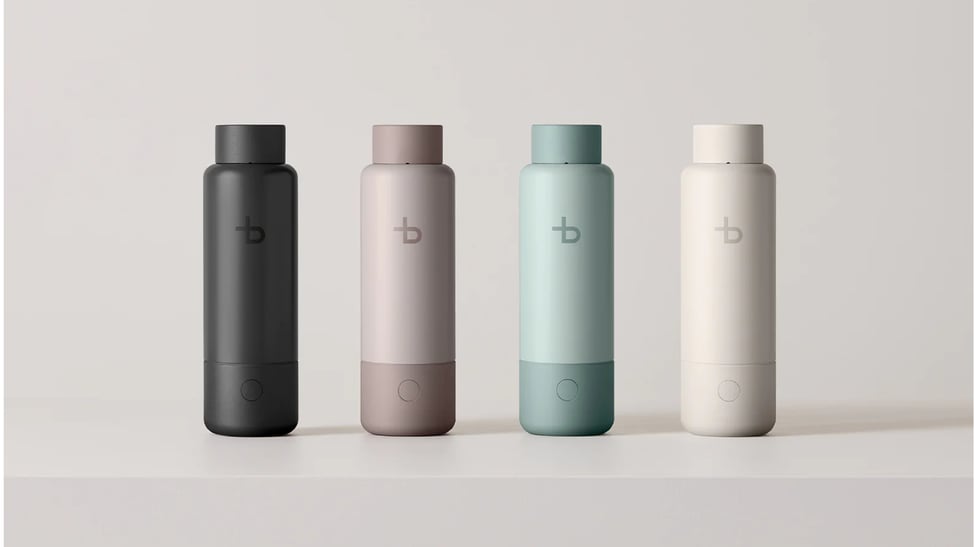 The hard-shell water bottles come in four different colors so you can enjoy your on-the-go drink in style.
The future is sparkly
"We want to drive a long-needed change in the beverage industry by moving away from single-use plastic bottles and using local water sources. It is our vision to enable more sustainable, more flexible, and healthier on-the-go beverage consumption with best-in-class user experience." Going forward, the team aims to develop various modular adapters with different functionalities including sparkling water, adding specific tastes, cleaning water, etc., to cover all needs of on-the-go beverage consumption.
When asked for any advice for other entrepreneurs, Christian says that it is important not to be overwhelmed or intimidated by all the challenges along the way. "Being an innovator is a journey and when taking it step by step you will get closer to where you want to be with every day!" he says.
Following their success in raising 800,000 CHF on the Swiss TV Show, "Die Höhle der Löwen", where young Swiss entrepreneurs get the chance to pitch their business idea to renowned business owners; the team has since decided against the investment. "Another option has come up that was a bit more appealing to us after very fruitful discussions", said Christian. With this new investment, the team is now looking forward to start the large-scale production of their bottles and also to expanding their team, saying that the funding round was an important step towards realizing their idea.
If you would like to get your very own bottle, you can preorder it via the webshop.
rready can show you how intrapreneurship can improve financial performance, engage employees, and build a true company culture of innovation. We can help you prioritize intrapreneurship within your organization with the KICKBOX Method, a proven strategy for bottom-up idea and innovation management. Take the initiative today, be the change, and drive results. If you're rready to team up and get growing, contact us today.
Get started today