FEEDBACK
The best employee feedback software that enables your innovators to quickly collect decentralized opinions.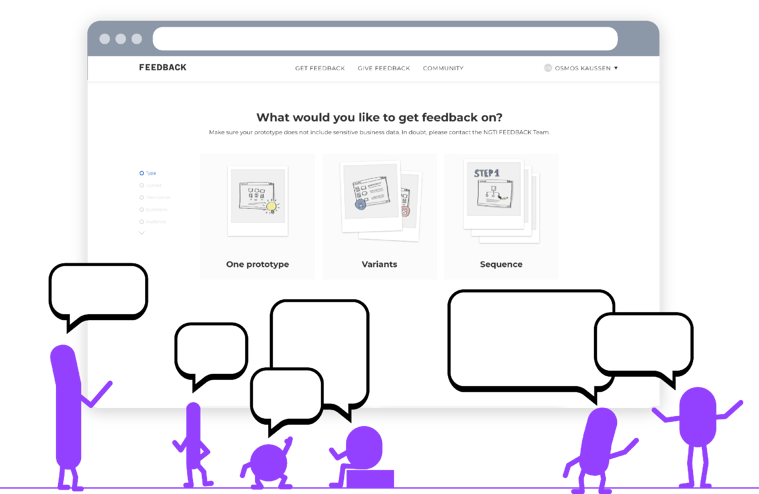 Better
products
The tool helps spot bad ideas early, reducing time and money lost.
Educated
decisions
Instead of assuming how people might react, find out with a few clicks and base your decisions on facts.
Collaborative
culture
Involve people from all over your company to foster cross-discipline creativity and innovative thinking.
"Home office made it more difficult to get early feedback on ideas and prototypes. The software replaces the feedback chat over coffee well and makes it more scalable."
Every User
in 2020/21
Feedback - a valuable present
Early feedback improves product and business success. Base
decisions on data and tests rather than unfounded opinions.
Too easy for excuses
No more "I did not have time to gather feedback yet". The software makes receiving feedback on your ideas, prototypes, and concepts an easy process, planting the seed for a powerful feedback culture.
Control who gives feedback
The tool allows selecting the entire feedback community or individually defined groups of employees, like the project team, people at the far end of your company, or even outside.
Your get-out-of-the-building-cheat
Silicon Valley entrepreneur Steve Blank's well-known words are: "There are no facts inside the building. Get out of the building."
With this tool, your employees can live a scalable 'Get-out-of-the-building' mentality without actually getting up.
Like 1000 feedbacks over
coffee at the same time
There are numerous tools and services to get feedback on ideas. When choosing, consider how in-depth the feedback needs to be, how quickly it should be gathered and how many people should be addressed.
"Thanks to Feedback, user-centered working becomes fun because everyone can get quickly feedback. Feedback recipients can easily test and feedback providers automatically receive the results of the survey. This closes the feedback loop."
Judit Edöcs, Customer Experience Manager
SBB Swiss Railway Company
The most valuable feedback
feels brutal
If the process is easy, most companies find enough employees willing to GIVE feedback.
But finding employees willing to GET feedback is a different story.
Motivate employees to get feedback
In every organization, there are hundreds of projects, ideas, concepts, and prototypes. However, the frequent lack of early feedback from peers often results in an abundance of too-late feedback from customers.
In the implementation training, we cover how you take the fear away of sharing an idea early.
Motivate employees to give feedback
You already have enough employees willing to give feedback. Let us prove it.
In the onboarding training, while practicing internal marketing, we will cover how to pull your employees into your feedback community.
What can I get feedback on?
What is the point of early feedback?
Can I combine this with your other programs?