A sneak peek into working as an intern at rready
A brief summary by Aline Noth
Big red Kickbox posters covering the walls. A telephone booth placed somewhere in the room, in which one of the Co-Founders is fully invested in his video call. Big, warm lamps hanging from the ceiling, and amid everything my future co-workers, who warmly welcome me on my first day of work. The so-called Pirates Hub, but more importantly now-former home to GETKICKBOX, was where I would spend the first few hours of my internship before in virtue of the current situation switching to a remote Internship-experience. 
Being the CEO of your ideas
As I am writing this blog post, I am currently in my fourth month as a Marketing Intern at GETKICKBOX. During this time, I got the chance to wear many hats, and thus gain valuable insights into where my interests and talents lie. So far, I got to join sales calls with possible future peers, work in content production, learned more about lead-generation, reviewed our social media appearance and the rebranding, organized an online team event, and much more.
I discovered that working at GETKICKBOX means few restrictions on your creativity and a welcoming attitude for ideas and suggestions of your own. It was clear from the beginning that the young spirit of every member of the team and foremost the four founders wouldn't allow a classical hierarchy as can be found in corporate firms. Job titles don't really matter; being hands-on is crucial. GETKICKBOX is a lively, fast-changing firm where one must stay flexible, productive, and first, and foremost - proactive. "I am the CEO of my ideas.", a phrase GETKICKBOX likes to pass on to their peers, is something they embody and live by themselves.
Right from the beginning, I was allowed to work independently on my tasks and, I was required to take on responsibility of my own. But above all, I could implement my own ideas and, was given time to do so – exactly as taught during the Kickbox Program. The external point of view that I brought into the firm at the beginning of my internship was not only heard but was also very welcome and, I was never falling on deaf ears. In doing so, your contributions - as small as they may seem or be - mak
e you feel like they are being valued a lot and, you will unquestionably never feel like a cog in a wheel.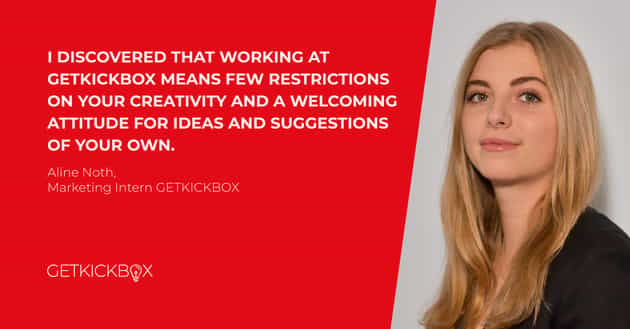 About the "home office" - thing
The starting shot of my internship in the office was, as already mentioned, quickly replaced by remote work. Given that it is my first time working for a start-up, I didn't quite know to expect from this internship and with the home office regulation even more so.
But after only a few days, it turned out that this wouldn't pose a problem at all, as GETKICKBOX had already changed and introduced exciting team events on remote from the first lockdown in March 2020. I was also able to organize "coffee calls" with every colleague of mine separately and thereby get to know them all a little. Here too, I was allowed to be creative and go ahead with ideas of my own which led me to co-organizing a big team event in February.
In this challenging time, I find it is all the more important to have a supporting and spontaneous team to work with, which I certainly had. So even though I had to start my internship during this pandemic, it worked out wonderfully, and I am glad to be a part of such a proactive and motivated team. Moreover, working from home came in quite handy for me as I am also studying full-time at the University of Zurich. Working remotely makes it possible for me to optimally divide my working hours and lectures, and both GETKICKBOX and I benefit from this. Furthermore, it helps me to combine practice with theory by applying what I have learned in the lectures to tasks and problems. That adds a lot of value to both my work and my studies.
But in conclusion, I am also having great anticipation of acquiring working experience at the office and getting to know the team further. Like the rest of my colleagues, I am really looking forward to working at our new office on the 14th floor of the Swisscom tower. There are exciting times ahead of GETKICKBOX and I am happy to continue to be part of their exciting journey!